Lost in Bookland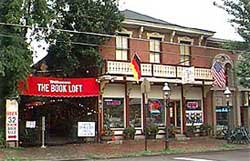 The Bookloft
COLUMBUS, OHIO—
With a name like "The Book Loft," you'd expect this store in Columbus, Ohio, to offer a cozy balcony of titles. It did twenty years ago, when Roger Tompkins, Carl Jacobsma and Russell Iler opened the operation, but since it's grown a bit. Located in the picturesque German Village enclave, The Book Loft now occupies 32 connecting rooms in historic structures built in 1863. The rooms now full of over 700,000 titles were originally a saloon, a nickelodeon cinema, and general stores.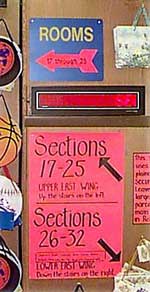 Enter the labyrinth...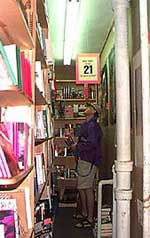 Every inch is filled with books
The Book Loft provides maps at the front door, and every room is clearly labeled. It's more fun, however, to let yourself get lost in the labyrinth of nooks and hallways. Most rooms have their own sound systems, and each one is playing a different soundtrack. No space is wasted; even the closets are full of stocked shelves.
The Book Loft sells all new books, and all of them are bargain-priced. We found an amazing variety of remaindered titles in addition to a full complement of best sellers and perennials.
It's easy to see why the Book Loft attracts busloads of visitors all year round, and why, as manager Dale Fonte told us, "It beats the Buckeyes as a tourist destination." It is, quite simply, one of the most wonderful book stores in the whole country.
The Book Loft
631 S. Third Street
Columbus, Ohio 43206
(614) 464-1774