The Way the West is Ours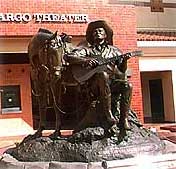 A life-size bronze of Gene Autry welcomes visitors into the courtyard
An Afternoon at the Autry Museum of Western Heritage
LOS ANGELES, CALIFORNIA—
It would be easy to say that a trip to the Autry Museum of Western Heritage is a step into the past, but it's really much more than that. The Autry, founded in 1988 with major support from the Autry Foundation, is dedicated to acquiring, preserving, and interpreting art, artifacts and written materials that document the history of the American West.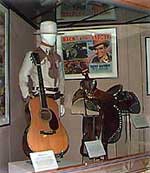 The guitar, saddle, hat and shirt of the most famous cowboy crooner of all
Fortunately for all of us, the museum's directors do not consider Western history a closed book, but rather something still in the making. The Museum's ever-expanding collection includes works by contemporary artists as well as yesterday's greats. In addition, one of the museum's purposes is to collect and study material relating to the fictional West of literature, art, film, television, and even advertising.
What does all this mean when you step inside the museum's dramatic courtyard? First off, you're greeted by a life-size bronze sculpture of Gene Autry called "Back in the Saddle Again."
But don't get the idea that the collection inside revolves around Gene Autry. While the world's most famous cowboy crooner made it all possible, the museum is in no way a vanity project. Only one small case in a gallery dedicated to cowboys of fiction and film holds Autry memorabilia, although his personal collection of Western art formed the core of the museum's holdings.
We wandered through the Autry's seven galleries, enjoying spectacular displays designed by Disney "Imagineers," and noting how many groups of school children were enthralled by them, too. We weren't surprised to find out later that the Autry is the most-requested field trip destination among Los Angeles teachers.
We wound up our tour with a visit to the museum store, which offers a great selection of Western art, jewelry and music. The day was unseasonably hot, so we stepped into the Golden Spur cafe for a cold drink before getting "back in the saddle again."
Autry Museum of Western Heritage
4700 Western Heritage Way, Los Angeles, CA 90027-1462
(213) 667-2000
www.autry-museum.org