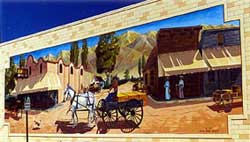 Historical mural by Bob Unkrich at the corner of
Willow & Main Street in downtown Bishop
California Watercolorist Bob Unkrich
BISHOP, CALIFORNIA-
After a career in advertising in Southern California, Bob Unkrich retired to Bishop, a town renowned for being the gateway to such natural wonders as the Sierra Nevada, the ancient bristlecone pine forest in the White Mountains, the unique environment of Mono Lake and the historic Gold Rush towns of California and Nevada.
It was the perfect place for Bob to pursue a second career as a fine artist. His watercolor paintings now hang all over California, and every visitor to Bishop's downtown is treated to a view of his mural (a monumental work in oils) at the corner of Main Street and Willow.
While Bob's subjects are often the vistas and vegetation of the nearby Sierras, he often climbs into his mobile studio and heads to more distant locations, including the historic mining town of Bodie, the California coast, Death Valley, and Nevada.
Now 74 years old, Bob Unkrich plans to spend the rest of his life painting. As any visitor to his living room gallery will concur, his watercolors capture the essence of the scenes he paints. For those of us who don't live at the gateway to the Sierras, Bob's paintings have the power to take us there at a glance.
Click here to see a selection of Bob's remarkable watercolors.