The World's One and Only Skytyping Squadron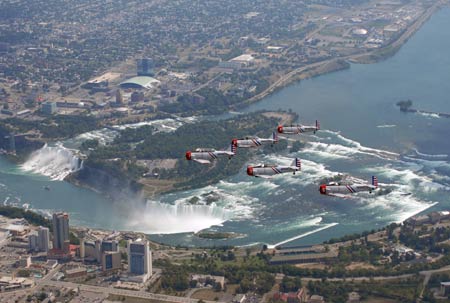 Update July, 2007: We first posted this story in July, 1997. Now, ten years later, they're still flying strong. This photo, taken in July, 2007, shows the squadron flying in formation over Niagara Falls.
If you've ever heard someone shout, "Look! Skywriting!" in a crowded stadium, you know that veryone looks up, no matter what's happening on the field. Slowly the message appears and hangs in the sky. It's magical, it's romantic, "and that's why I do so many marriage proposals," says Mort Arken, commander of the world's only Skytypers Squadron.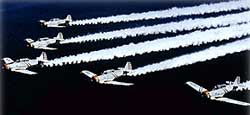 Mort retired from the Navy in 1970 after serving on the U.S.S. Enterprise in the Pacific. Six months later, he bought five SNJ-2 Navy fighters. He now owns six of the eleven in existence.
With one plane, a skilled pilot can write messages in the sky by imitating a pencil point. As paraffin-based 'smoke oil' streams out, the pilot loops through the air forming letters. Under perfect conditions, he can write as many as six or seven characters before the message starts to fade.
"Skywriting is perfect for short messages or logos," says Mort. "I've done hearts with initials for weddings, for example. But for longer words, the answer is skytyping."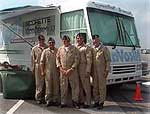 Skytyper pilots Jan Wildbergh, Steve Kapur, Mort Arken, Steve Salmirs, Charles O'Brien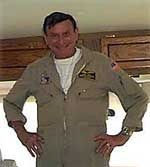 Squadron Commander
Mort Arken

SNJ-2 prepares
for take-off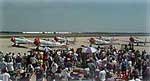 The Skytypers Squadron draws a big crowd at Andrews Air Force Base near Washington, D.C.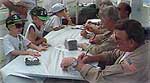 The pilots sign autographs for young fans at Rickenbacker Airport in Columbus, Ohio
It takes five planes to skytype. They fly in a tight formation at 10,000 feet. A special transmitter on the lead plane sends information to receivers on each of the other aircraft. Smoke puffs out in a pattern read from a perforated tape. "The tape looks like a little player piano roll," explains Mort. "Wherever there's a hole, the appropriate airplane releases a puff of smoke." The result is a message eight miles long with dot-matrix style letters twice as tall as the Empire State Building. It can be seen for thirty miles in any direction, which means a message of up to thirty characters reaches an area of nearly 400 square miles!
"It's an unforgettable way to make a point," says Mort. "I once wrote 'Joe, You're a Fink!' and another time, I did, 'Good-bye wife, Good-bye house,' for a guy who'd just gotten divorced. I do birthday parties, bar mitzvahs, and, of course, a lot of corporate work."
This year, the Skytypers have appeared at airshows across the east as the Nicorette®-NicoDerm CQ™ Skytypers Squadron. "Leave the smoking to us!" is their motto. When they're not in the air, the pilots sign autographs for fans of all ages.
The Nicorette®-NicoDerm CQ™ Skytypers Squadron is based in Long Island, New York, but it's traveled coast to coast on skytyping missions. "I'll be doing this as long as I possibly can," says Mort. "Flying is a beautiful thing, and it's my life."
Megan
7/97
Update 9/08: In 2007, Skytyper pilots Mort Arken and Jan Wilderbergh passed away, but the squadron continues to fly and perform several times each year. Photos of the pilots and some examples of their work is online at http://www.skytypers.com/.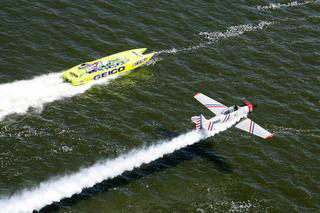 The "Miss GEICO" ocean racing boat and a Skytyper in formation in August, 2008