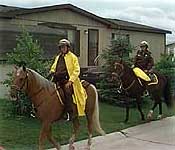 Mounted sheriffs patrol
the Rudgate community
Actually, it all started July second, a hot, muggy Wednesday. Clouds gathered all afternoon, and it looked like a thunderstorm was inevitable. We were spending the day in Dearborn, near downtown Detroit, and keeping an eye on the sky and an ear at the weather radio.
Like everyone else, we expected a gully-washer downpour, and some impressive lightning. What we got, however, was the unexpected. At six o'clock, tornado sirens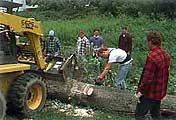 Steve Werner at work with his crew
screamed. The sky was as dark as midnight, and winds whipped in all directions at once. "Take cover!" commanded the voice on the radio, and everywhere we looked, people were scrambling. We headed east and north, pausing in underpasses while the winds howled, floods rose, and hailstones an inch across bounced on the ground like marbles.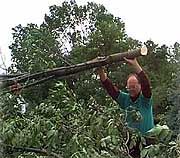 Mark versus tree
By seven, it was all over. Twelve tornadoes had touched down in the Detroit area, and scores of houses had been flattened. Eight people lost their lives.
Friday morning, we turned on the television in time to hear a call for volunteers to help the Red Cross offer disaster services in the communities hit by tornadoes. "Is there a better way to spend the Fourth of July?" asked Mark. He called the number on the screen, and soon we were headed to Rudgate, a mobile home community north of Detroit where dozens of houses had been damaged or destroyed.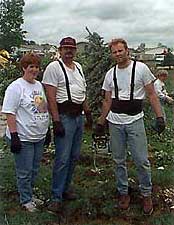 Marge Garavaglia, Dennis
Wentworth & Steve Werner
Mounted sheriffs were patrolling the streets when we arrived, and volunteers were picking up debris and cutting up felled trees. I served coffee, drinks and snacks while Mark helped saw and stack branches.
Volunteers had arrived from everywhere. Steve Werner, owner of Shelby Woods Construction Company, had been on the scene with his crew for two days. "Today's my birthday," he said, "I'm missing my own birthday party." He was also wearing a pager to let him know when he was about to become a father.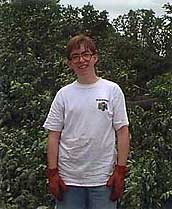 Dave Taylor
Dave Taylor, a high school senior who lives at Rudgate, had been working all day throwing debris into dumpsters. "I was home with my seven-year-old sister," he said. "I have a barometric head, and I knew something big was coming. I threw Amanda into my closet, and we came through okay."
Around three o'clock, the sheriffs decided the community was secure. Most houses had power and telephone restored, and much of the debris had been picked up. We would have left with everyone else, but we had broken the first rule of disaster assistance: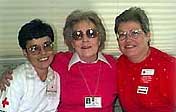 Red Cross staff member Maria Flores and volunteers Shirley Gonyea & Connie Vaive
"Don't become part of the problem." One of our brakes was broken, and we couldn't drive.
Finding a mechanic available on the Fourth of July in a disaster area seemed impossible, but angels came to our aid instead. Rudgate residents Nan, Doug and Lambert Semelveis located the right tools and repaired the problem. Thanks to their kindness and skill, we were back at our campground in time to watch fireworks.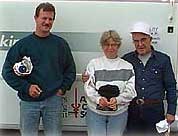 Doug, Nan, & Lambert Semelveis
It was an Independence Day to remember.