Update 11/03: Chasing Lightning, by Chris Moeller, is now available. Click here to read RTA's review.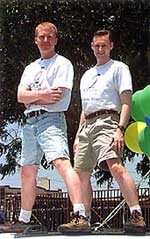 CULVER CITY, CALIFORNIA—
They had it all: good jobs, nice cars, lives filled with travel and excitement. Brian Ardinger held a senior position with a high-tech firm in Silicon Valley. Chris Moeller was a successful web site designer and graphic artist in Southern California. Both had traveled the globe and could look forward to long, financially rewarding careers.
Last year, Brian and Chris, who have known each other since the age of six, decided that they wanted something more. "What's real success?" they wondered. "What's genuine happiness? And what makes some people follow their dreams, regardless of what society may think?" For Chris and Brian, these were more than idle questions. They began to design a project that would give them insights they could use in their own lives as well as share with others.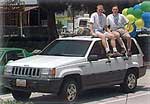 Chris & Brian with their
ready-to-roll Jeep Cherokee
Last February, right around the time of Brian's thirtieth birthday, their plans coalesced. "We were at a pizza place in Sunnyvale," said Brian. "And that's when we hit on the idea of a road trip. We decided we'd interview people from all walks of life who are following their dreams and leading fulfilling lives. By traveling the country, we'll discover regional differences and get a much better picture than we could if we did all our research in a library."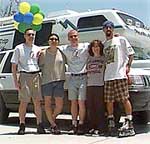 Brian Ardinger, Vivian Iwasa,
Chris Moeller, Louise Rollin,
and James Alamillo at Quest-4's launch at Media Park, Culver City
Six months later, the evening at the pizza place had blossomed into Quest-4, an interactive web site, a book project, and a white Jeep Cherokee equipped with laptop computers, digital cameras, and six months worth of living equipment. Quest-4 left Los Angeles on the first leg of its cross-country expedition on Sunday, June 28, the day after Chris' thirtieth birthday.
The Quest-4 web site (www.quest-4.com) tracks Chris and Brian's migrations, and new interviews are posted each week. It's all guaranteed to make you want to quit your job, get a Jeep, and follow your dreams.