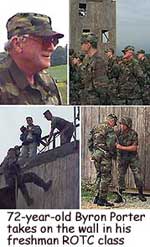 SLIPPERY ROCK, PENNSYLVANIA—
Meet Byron Porter, Brentwood High School, Class of 1942. "I went from high school straight into the army," he says. After the war, I got married, had three kids and began a 45-year career in sales. I lost my wife to cancer in 1992. Going to college had always been a dream of mine, but I just never got the chance, until now." Byron enrolled this fall at Slippery Rock University in Slippery Rock Pennsylvania.
"I was pleased to find out that my high school transcripts were still good, and that I'd graduated with a B+ average." When he got to college, he found out that ROTC courses were available. "I wanted the whole college experience, so here I am."
Byron was standing with the rest of his class on a grassy slope next to a thirty-foot training tower. The challenge for the day was to rappel down one side, Batman-style. One by one, each cadet backed down the wall. When Byron did it, everyone cheered.
"Would you like to do it again?" asked a reporter from a local newspaper. "We'd like to get some more pictures." Byron had a ready answer: "No." This is a man after experience, but once he's had it, he's ready to move on. "Next semester I'm taking ballroom dancing," he added. "I've heard there will be 80 beautiful women and no guys."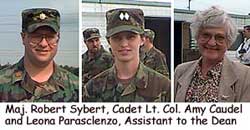 In addition to Byron, we talked to class instructor Major Robert Sybert, Cadet Battallion Commander Amy Caudel and Leona Parasclenzo, Assistant to the Dean. All three are happy that ROTC classes have attracted a record number of students this semester. "This is the first year students can receive credit towards their liberal studies requirement for ROTC. It's an important part of our mission to educate people about how the armed forces operate, even if they never join. Having someone like Byron Porter in class is an asset. He brings personal experience."
Byron Porter is getting as good as he gives. We hope we can come back to Slippery Rock in the year 2000 to see him get his long-awaited sheepskin.
Military Science Department, BSB
Slippery Rock University
Slippery Rock, Pennsylvania 16057
9/96