111 MINNA STREET, SAN FRANCISCO, CALIFORNIA—
111 Minna Street is no ordinary art gallery. "We're here to show alternative art, the kind that has no price tag on it," says owner Eiming Jung. And indeed, the art we saw there was priceless.
"Plastic Love" read the announcements. "A Group Show of Alternative 12-inch Generic Dolls." It took little reading between the lines to know they were talking Barbie.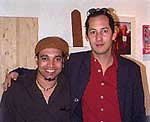 Stephen Williams & Eiming Jung
Yes, Paul Hansen's medium of choice is Mattel's perennial fashion queen, and he isn't the only Barbie artist in San Francisco. Also on display at 111 Minna were works by Sue Wandell, Grant Salminen, and Steven Pim, and photographs by James Connelly, Jr. and Sattu Rau.
Paul's artist's statement was on display near the door. It was the perfect introduction to the show: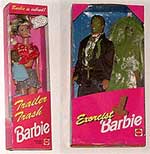 Works by Paul Hansen: "Trailer Trash Barbie" and "Exorcist Barbie"
"I started making these dolls three years ago. I am very much a child myself, and often shop at toy stores. A friend of mine was having a birthday, and I happened to be in Toys-R-Us. I noticed that they were selling wigs for 12" fashion dolls. For some reason the sight of this immediately made me think "drag queen". My friend was an avid Halloween Drag Queen, and so was born the first Drag Queen Doll. The birthday gift was received very well, and started me thinking of my next friends' birthday, and so was born a tradition.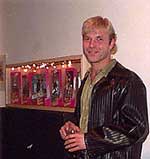 Paul Hansen
"Anytime since, when a friend of mine has a birthday I make a portrait of them in the form of a 12" fashion doll. I just take a piece or two of their personality, and add it to the doll, and then dress it like them. As time went on I made more dolls, and more and more people encouraged me to sell them.

"Last Summer I displayed some dolls in the window of In~jean~ious (a store on Castro Street that I used to live above). People showed so much interest in them that Bill Tull, the store owner, asked me if I would make some for him to sell during the holiday season. I did so, and that's the reason you are reading this now.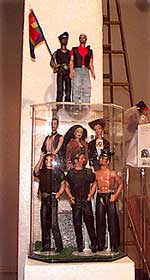 Dolls by Grant Salminen & Steven Pim
"The dolls you are about to see are in no way affiliated with Barbie®, or the Mattel Corporation. As per the request of the Mattel Corporation these dolls are not for sale, nor are any dolls that I have made which are packaged in pink boxes, or display the work "Barbie"; so please do not ask to buy them.

"What you are about to see is a collection of portraits of my friends and acquaintances, and a few public figures who have intrigued me. Whether or not they have been painted on canvasses manufactured by Mattel is irrelevant. I hope you enjoy my sense of humor and see yourself somewhere inside this room, because that is what this show is about.
-Paul"
The first piece I looked at was 'Trailer Trash Barbie.' "I've found myself already," I said to Mark.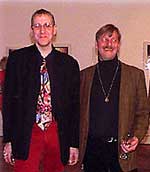 Grant Salminen & Steven Pim
Later we met Grant Salminen and Steven Pim. They've been creating Barbie masterpieces for ten years. They wanted to recreate society in the display window of their beauty supply store, and found that fashion dolls gave them the ability to reflect the variety of lifestyles, backgrounds and styles of the community. Their dolls are on display at the San Francisco airport as well as in their store on Polk Street.
Sue Wandell's works include the surreal "Hammerhead Barbie" and "Sweatshop Barbie,"among a variety of others.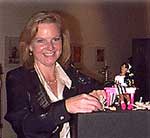 Sue Wandell with "Sweatshop Barbie"
Who goes to a show of Barbie art? 111 Minna Street was packed with people of all ages, backgrounds and styles. Mattel may not be amused, but it's not stopping the rest of us.