Wild Flowers in the Anza-Borrego Desert

This is a story about the beautiful wildflowers for which the Anza-Borrego Desert is world famous. For information about all the other wonderful things to see and enjoy in this remarkable natural wonderland, visit Borrego Springs online at
borregosprings.org
.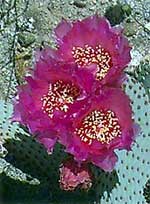 El Niño is getting a well-deserved rap for causing mudslides and floods in Southern California, but out in the desert, this extreme weather phenomenon has been quietly working wonders. "It's the flower show of the century," wrote a friend, and when we came over the crest on county road S22 east of Temecula and wound down to Borrego Springs, we saw that she was right. Bright yellow brittlebush covered the normally bleak rocky hillsides.
Lavender sand verbena carpeted lower, sandier slopes, and every so often, a whole field of white evening primroses would greet us. Many of the cacti were just coming into bloom, meaning that the magnificent display will continue for another few weeks.
On the advice of a park ranger, we drove up Coyote Canyon on a dirt track north of Borrego Springs. We forded a stream twice, and stopped to have a closer look several times. One of our more startling discoveries was that many of the flowers were covered with large, voracious caterpillars. What sort of winged creatures these might be preparing to become we could not discover. "Given their size and appetite," Mark said, "I think they'll turn into pterodactyls." I guess we'll have to go back in a month or two and see.
The pictures below are a small glimpse of El Niño's springtime gift, a desert in bloom.

Desert Dandelions

Sand Verbena

Brittlebush

Dune Evening Primrose

Lupine

Ocotillo
Chuparosa



Buckwheat

Popcorn Flower

Spectacle Pod &
Sand Verbena

Creosote

Tackstem

Chuparosa and Brittlebush with Ocotillos in the background

Desert Dandelion & Buckwheat