Restaurants of the Road
More Eateries

The Tillerman
Las Vegas, Nevada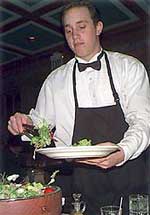 It's easy, when you're in Las Vegas, to stay on the strip the whole time. It's designed to keep you there, and it's hard to resist a thousand hotel billboards, each one boasting a cheaper prime rib or a bigger buffet.
If you can succeed in tearing yourself away, however, Las Vegas has more to offer than casino specials. Just ask a local, and you can discover genuine jackpots in the dining department.
Rob Stevens, who's lived in Las Vegas for four years, told us about The Tillerman. "It's my favorite," he said. "Really nice." It was enough for us to veer away from the bright lights.
The parking lot was jammed, but fortunately we were in a car driven by Angie Yoho, who is used to driving in Manhattan. She found a space immediately.
We walked inside and I wanted to say, "Hey, we're not in Nevada any more." You can't see the tables for the trees. "What an effect!" said Mark, and we sat down under a spreading fig tree to wait for our table.
The menus are printed on scrolls, and everything sounded pretty terrific. Angie opted for seafood pasta, Mark had sea bass, and I chose filet en brochette. The selections we passed up sounded equally terrific.
Salad arrived in a large rotating apparatatus known as a mobile salad bar. We made a small dent in the contents before our entrees arrived. Everything we were served was beautifully prepared and excellent. None of us had dessert, but a look was enough to see that it would have been equally outstanding.
Don't go to the Tillerman if you want the sound of slot machines in the background, or keno at your table. Go for fine dining in a lovely atmosphere.
The Tillerman
2245 E. Flamingo Road
Las Vegas, Nevada 89119
(702) 731-4036