Restaurants of the Road
More Eateries

Temecula Pizza Company

Temecula, California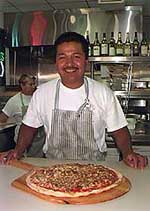 A Delicious Return to the Temecula Pizza Company
With pizza places a dime a dozen across the continent, why do we take a detour any time we're within a hundred miles of Temecula, California? It's simple. Temecula Pizza Company does it better than anyone.
We happened upon this place about five years ago, when its doors had just opened. It's located at the junction of Interstate 15 and Highway 79 (South), a convenient place to stop between Los Angeles and San Diego.
The stromboli made us instant fans, and it took several more visits before we could convince ourselves to try anything else. Of course, the pizza (78 different kinds!) turned out to be just as delectable, and the salads are terrific, too.
One of the best things about returning to Temecula Pizza Company is that, Felix R. Lopez, the chef, is always coming up with amazing new creations. This time, he was featuring the "Painted Desert," a pizza topped with white cactus, garlic, red & black peppers, olive oil, steak, mozarella, goat cheese, gorgonzola, provolone... well, you get the idea. He also had a new dish called "Pigs in Blankets," but it bore no resemblance to the old hot dog standby. It was a delicious combination of meats and cheeses baked inside the Pizza Company's unsurpassable dough. The only pigs we noticed were ourselves.
We were joined for lunch by Rose Corona, our friend who lives in Temecula, and served by Lisa Severance and Sara Pence. We also chatted with manager Carol Wilson.
There's only one thing left to say about Temecula Pizza Company: We'll be back!
Temecula Pizza Company
44535 Bedford Ct.
(Junction of I-15 and Highway 79 South)
Temecula, California 92592
(909) 694-9463