Restaurants of the Road
More Eateries

The Summit Diner
Butler, Pennsylvania
Update 4/01: New owner Debbie says, "We're keeping the Summit tradition alive!"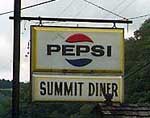 The Summit Diner
AUGUST, 1999
In an age when artificially manufactured nostalgia abounds, it's a delight to come upon the real thing. There's nothing fake about the Summit Diner. It's the genuine article, straight out of 1940's Pittsburgh. It was moved up to its current spot on Route 422 just east of Butler in 1963, and for the last two years, Roger and Sandy Riddle have been keeping its tradition of good food for reasonable prices alive.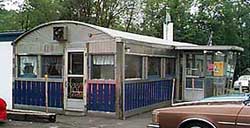 We arrived in time for a late breakfast, and considered ourselves lucky to find a free table. After perusing the menu and finding to our astonishment that the prices were as retro as the decor, we ordered eggs, sausage, home fries, toast and coffee.
It was the best breakfast I've had in a long, long time. The coffee was fresh, the eggs cooked to perfection, and, best of all, the home fries were cut from real potatoes - no frozen extrusions! The sausage came from Willie's Smokehouse in Harrisville, a town to the north, and it was tasty, too.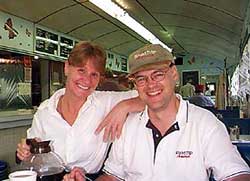 I was sorry we couldn't come back for lunch and try the day's special, stuffed peppers. For that matter, I was sorry I couldn't come back the next day for another round of breakfast. There's no question about it. If I lived anywhere near Butler, I'd be a Summit Diner regular.
Megan
8/99
Summit Diner
754 Route 422 E.
Butler, Pennsylvania 16002
(724) 287-8095