Restaurants of the Road
More Eateries

The Roadhouse
Talkeetna, Alaska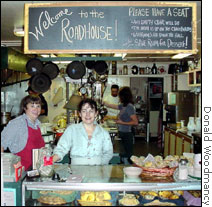 Welcome to the Roadhouse: Owner Trisha Costello (center) and Beth Wheeler preside over the well-stocked bakery counter
[Getting there] [More information]
If you enjoy good old-fashioned artery clogging, cholesterol-laden home-style cooking, dished up in joint redolent with frontier history, Alaska's Talkeetna Roadhouse fills the bill.
Starting in the late 1800's, roadhouses scattered along the rivers, trails, and railroads of the far north were vital and welcome shelter for miners, laborers, and adventurers traversing the Alaskan and Canadian wilderness. Talkeetna Roadhouse, built in 1917 and opened as a roadhouse in 1944, is one of the few such establishments still surviving. The Roadhouse provides hearty food and adequate, if not luxurious, lodging to travelers in the quirky and remote village of Talkeetna.
Trisha Costello and her energetic crew of cooks and servers dish up their rib-sticking fare for breakfast and lunch. They provide a delectable selection of baked goods seven days a week during the tourist season and on weekends through the winter. The Roadhouse is open for supper only on special occasions.
On all my visits, the café was filled to overflowing. Seating is communal - you're expected to grab an available chair at one of the large tables. Once seated, you can't help mingling with interesting folks, locals and travelers from around the world. Mountain climbers are frequent customers, and a number of McKinley/Denali climbing teams have made the Roadhouse their headquarters. Maps, pennants, and autographed photos of climbers cover the rough-hewn plank walls of the dining rooms.
Menus for the day are handwritten on chalk boards in both dining areas, and meals come in full and half portions. Servings are generous--unless you have a really hefty appetite, a half portion is more than enough.
Breakfast menus include traditional favorites with a local twist: pan-scrambled bacon and eggs with fried potatoes, sourdough hotcakes, and biscuits with reindeer sausage gravy. The equally tempting lunch menu features huge sandwiches on thick slices of home-made wheat bread and hearty soups.
The Roadhouse is a welcoming beacon of hospitality in the Alaskan wilderness, and it's an important piece of Alaskan history. No visit to Talkeetna is complete without a meal there.
Don Woodmancy
1/03