Remote Talkeetna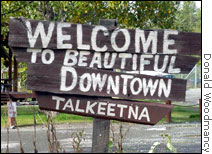 Is Talkeetna Cicely? The locals all say, "Yes!"
TALKEETNA, ALASKA—
[Getting there] [More information& links]
Ask anybody in town! Talkeetna was the model for Cicely, Alaska—the quirky little town featured in the TV show "Northern Exposure." If that's not true, it could have been. Talkeetna's entire downtown area is listed on the Register of Historic Places. Its wilderness location at the base of Mt. McKinley (aka Mt. Denali) and at the confluence of three wild rivers also makes it a center for outdoor enthusiasts, climbers, and tourists of all descriptions.
Talkeetna is remote—you don't accidentally stumble across it. From Anchorage by road, it's about 115 miles north on the Parks Highway and then another 14 miles down the (paved) Talkeetna Spur Road. It is also a scheduled stop on the Alaska Railroad, about 80 miles up-track from Anchorage. You can fly light aircraft into the small airport at the edge of town. Unless you fancy dog sleds or snow machines in winter, these are the only ways to get there.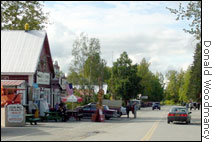 Tiny town near a big mountain: Talkeetna serves as headquarters for Mt. McKinley climbing expeditions
Talkeetna shares many features with the fictional Cicely. If you remember "The Brick," Cicely's saloon and gathering place, you'll feel right at home at either the Fairview Inn or the West Rib Pub across the street. The energetic waitresses seem right out of central casting. I have no doubt that the town's famous Bachelor Auction, the highlight of the winter "social season," also looks like something scripted by a screenwriter.
Once you arrive, a myriad of recreational opportunities beckon. Talkeetna serves as headquarters for climbing expeditions to Mt. McKinley, which, at 20,320 feet (6,194 meters), is the tallest mountain in North America. The mountains, rivers, glaciers, and meadows in the area provide superb sight seeing, especially by air. I think the most fun I ever had in a plane was skimming over the broad surface of Ruth Glacier 500 feet above the ice, with the towering canyon walls on either side.
Jet-boating is also popular with visitors. Custom-designed boats skip along the rivers at high speeds past ever-changing panoramas offering a better-than-average chance of seeing wildlife. The high-speed, skidding turns made by these shallow-draft crafts are downright thrilling, but if jet-boats aren't your style, you can enjoy float trips on rafts or paddling kayaks or canoes along the wilderness rivers.
For out-of-doors enthusiasts, the backpacking, hunting, and fishing near Talkeetna are world class. In the winter, the barking of teams of sled dogs often echoes through the valley. Hiking trails abound, and there are a number of gift shops and galleries for browsing.
In summer, the Alaska Railroad offers something unique—the only remaining flag-stop passenger service in the United States. Yes, you can actually hail the self-propelled, single-car train even when it isn't passing through a station, and the engineer will stop and let you board.
Overnight stays can be tailored to fit any pocketbook. There are several riverside RV parks, small but adequate rooms in the Roadhouse, several bed-and-breakfasts, and a number of small motels. Two large luxury lodges provide more palatial digs.
Whether you come to enjoy the many outdoor activities or simply to bask in the atmosphere of a small outpost in the Alaskan wilderness, you'll love your visit to "Beautiful Downtown Talkeetna."
—Don Woodmancy
January 16, 2003