Restaurants of the Road
More Eateries

The Record Grill
Dallas, Texas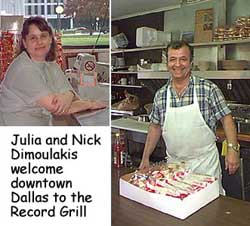 While we were visiting Dealey Plaza in Dallas, Texas, we met Tom Riehm, a photojournalist with Channel 11 (CBS) News in Fort Worth. He was in town to cover the 33rd anniversary of John F. Kennedy's assassination. We asked him one simple question: "Where would you have lunch if you could eat anywhere in Dallas?"
"Well," he said. "I may be weird, but I'd pick the Record Grill. It's not fancy, but the food's great." Tom gave us directons, and we arrived at the corner of Elm and Record as the lunch rush was winding down.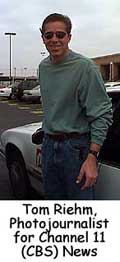 The Record Grill is so small that without Tom's directions to alert us, we would have walked right by. We would have missed a fabulous treat. What the Record Grill lacks in size and elegance, it more than makes up for in location. The regulars include judges, lawyers and FBI agents who work in the government buildings nearby. Several expensive suits were finishing up as we sat down.
The secret of the Record Grill's success is its owners, Julia and Nick Dimoulakis. For the last 27 years, they've been serving breakfast and lunch to downtown Dallas for unbelievably low prices. Mark's lunch special, chicken fried steak with beans and a salad, cost $US3.25. My hamburger was even less. We weren't in a hurry, but if we had needed to dine in half an hour, the fast service would have left us plenty of time to spare.
Dallas may be famous for excellent steak houses and chic dining opportunities, but we know the next time we're back, we'll be heading to where the locals hang, the Record Grill. We have four more lunch specials to try!
11/96
Record Grill
605 Elm Street
Dallas, Texas 75202
(214) 742-1353
Great lunch specials every day!