Restaurants of the Road
More Eateries

The Ravens
Mendocino, California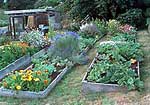 [The Ravens is at The Stanford Inn by the Sea]

JULY, 1999
"We use no meat or meat products." If you're not a vegetarian, can a menu bearing such a statement offer enough appeal? It can if you're dining at The Ravens, the eatery at the Stanford Inn by the Sea, just south of the town of Mendocino on California's Highway 1.
Inspired by the fruits of the Stanford Inn's California certified organic garden, executive chef Georgia Lane creates masterpieces that delight not only the palate, but also the eye.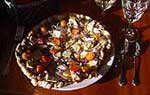 We started with a remarkable appetizer, a shiitake mushroom and cilantro red onion pate. Afterwards, I passed up a chickpea walnut burger, hot and sweet glazed tofu (pan braised with apricots, chipotle chiles and lime) and Polenta Napoleon with Grapestone Ratatouille for "the pizza of the moment."
When it arrived, Mark and I agreed it was too pretty to eat without first capturing it on film. We'd left the camera in the Phoenix by mistake, and while Mark ran back to get it, I had the greater challenge. I had to sit and look at the pizza without eating it. Let me tell you, it was tough.
Not only was it a work of art, it emitted a tantalizing aroma of pesto and cheddar. It was studded with gold and red cherry tomatoes, slices of sunburst squash, and red onions. What really set it apart, however, was its sprinkling of bachelor's buttons. Never having enjoyed a pizza enhanced by bright blue flowers before, I was enchanted.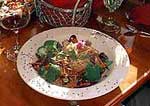 Mark's dinner was similarly lovely and delicious. He chose the glass noodle saute, which came adorned with a purple chive blossom and fresh basil leaves. Oh, and we were sitting at a table next to a large picture window. We watched the sun slide down into the Pacific Ocean as we ate, and topped our feast off with a work-of-art dessert complete with pale pink rose petals.
There was still enough light for us to walk through the garden before we left, and we spotted many of the ingredients we had just enjoyed.
As we walked back to the Phoenix, we passed the compost heap, an integral part of the garden's operation and a reflection of the dedication of its owners to sustainable, environmentally responsible farming. I guess it should come as no surprise that the compost heap was pretty, too.
Megan
7/99
The Ravens
Mendocino, California
(707) 937-5615
(800) 331-8884