Restaurants of the Road
More Eateries

The Manzanita Inn
Cornville, Arizona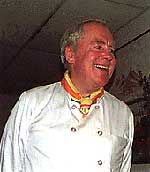 Chef Albert Kramer
There is no corn in Cornville. The town was supposed to be called Conville, but when the founder applied for a post office, the U. S. Postal Service misread the paperwork and added an 'r.' Cornville, a tiny hamlet in Arizona's Verde Valley, was born.
There may be no corn there, but, thanks to another bit of serendipity, there is a great place to eat. A few years ago, when the Kramer family was driving through, a flat tire made them stop. They're still there, and everyone in red rock country is happy about it.
Albert Kramer, who was born in Switzerland, is a much-decorated chef. He's the founder of two culinary schools, and he's cooked for the Rockefellers and the Carters. The Manzanita Inn is his most recent gift to food lovers.
We found out about the Manzanita from Sam Kolman, a faculty member at Southwestern Academy in Rimrock. He and our friend Diane Hall joined us one evening to find out why the little road to Cornville gets so much use.
It was clear from the start that dinner was going to be memorable. The first special our waitress Suzanne announced was grilled alligator. We decided to try it as an appetizer. While we waited, we made up our minds about which main courses to order and tried to resist eating too much fresh bread and pesto butter.
Sam selected one of the specials, chicken breast stuffed with nuts and fruit. Diane ordered duck with orange sauce. Mark chose blackened ahi tuna, and I finally decided on top sirloin steak. Everything arrived with home-grown vegetables and twice-baked potatoes.
One bite was enough to explain why you should make reservations if you want to eat at the Manzanita. All four entrees were masterpieces. The only disappointmant was that none of us had room for dessert, and the dessert tray was a work of art, too.
After dinner, we paused to chat with Esther Kramer, the Chef's daughter and the Manzanita's manager. A life-long lover of good food, she gave us recommendations for restaurants to try all over the country. Her vivid descriptions of tantalizing dishes succeeded in making our mouths water in spite of our satisfying dinner.
As we drove away, we found ourselves hoping we'd be back in Cornville soon. There's no corn there, but who cares? There's the Manzanita Inn.
The Manzanita Inn
11425 E. Cornville Road
Cornville, AZ 86325
(520) 634-8851