Restaurants of the Road
More Eateries

Joe T. Garcia's
Fort Worth, Texas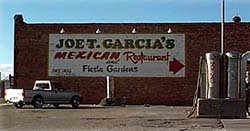 Joe T. Garcia. It's a name everybody in Fort Worth either hates or loves, but everybody knows it. We first heard about this Mexican eatery from two locals who said, "Go there. There are only two things on the menu, and it's a real experience."
We made our first attempt on a Saturday night. Armed with vague directions and a map, we searched what seemed to be a deserted industrial area. Just as we were nearly convinced we must be in the wrong universe, we caught sight of the edge of a parking lot. "Looks like something there," Mark said, and we decided to take one last look.
Once we found Joe T. Garcia's, we couldn't believe we'd ever missed it. Two large lots were filled with cars, and more were circling. The line to get inside was nearly a block long. "I think Joe has more friends than enemies," I said.
We didn't wait in line that night, but, marking the spot carefully on our map, we went back Tuesday with Rebecca, Bob, Ryan and Jessica Lommel, friends who live in nearby Mansfield.
Joe T's is packed on Tuesdays, too, especially when Texas Christian University is having a major fundraiser there. They'd taken over the entire garden, which is the main dining area.
"Guess we'll have to eat inside," said Bob, "Which nobody does at Joe T's."
There really are only two things on the menu: enchiladas and fajitas. We ordered both, and soon the table was covered with more than enough for a starving platoon. Somehow some tacos and nachos had entered the lineup, and conversation waned as we ate our way down to bare wood.
Before we left, we sneaked into the garden. It's an entire city block of courtyards, patios, fountains and flowers. It was easy to see why people wait in line on a balmy evening.
Joe T's is a place that proves that extensive menus aren't the only way to make a restaurant interesting.

Megan
5/97
Joe T. Garcia's
Mexican Restaurant
2201 N. Commerce Street
Fort Worth, Texas
626-4356

Sit outside!