Restaurants of the Road
More Eateries

Iveys Grill
Gainesville, Florida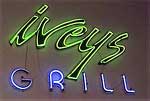 Not everyone is fortunate enough to live near a truly fabulous restaurant, but Bill MacGowan is one of the lucky ones. Not more than a mile from his home in Gainesville, Florida, is Iveys Grill, and if I lived that close, I'd probably eat there every night.
The menu at Iveys poses a serious problem for people who can't go back at least a dozen times. It was nearly impossible to choose from the extensive list of delectable-sounding entrees, which included dishes like fresh grouper filet encrusted in pecans and whole cumin and chicken breast stuffed with green apple, smoked bacon and sharp cheddar. With difficulty, I settled on the grilled Black Angus New York strip steak served with Jack Daniel's whisky gravy and caramelized red onions, but it meant I had to pass up several great-sounding specials and southern-style pork loin grilled with vidalia onion and mustard barbecue sauce.
The breakfast and lunch menus at Iveys are just as tempting as the dinner offerings, and everything is served with a flair most restaurants aspire to but rarely achieve. There are probably other terrific restaurants in Gainseville, but there's a serious chance I'll never know. If I'm ever back, I'm heading straight for Iveys.

Iveys Grill
3303 West University Avenue
Gainesville, Florida 32607
(352) 371-4839