Restaurants of the Road
More Eateries

Gladstone's 4 Fish
Malibu, California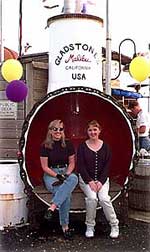 Susan Gibowicz & Angie Yoho
Lots of cities offer dinner with a view from the top of a man-made tower. Los Angeles doesn't have a Space Needle, but who's complaining? At the end of Sunset Boulevard, where California meets the Pacific, Gladstone's 4 Fish serves three meals a day right on the beach.
We went there with our friends Susan Gibowicz and Angie Yoho, and Mark's parents, Margaret and Charlie Sedenquist.
An army of valets greeted us as we turned off the Pacific Coast Highway. We noticed a clear pecking order in the parking lot. The snazzier the wheels, the closer the valets park them to the door. We skirted two Corvettes, a Maserati and a Bentley as we entered.
The courtyard was crowded, and the restaurant was packed. "The wait is about two hours," we heard the hostess say to a pair of new arrivals. Fortunately, we had a reservation. We were shown to a table that had a view of the water even though it was two rows away from the window.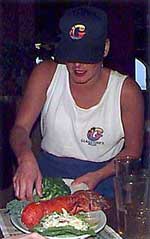 Kathy Orlando serves up a Maine lobster
Susan and Angie ordered lobster, Charlie had sea bass, and Margaret opted for swordfish. Mark and I teamed up to try salmon with hot sauce and smoked eel sushi.
"A true California experience," I said. "All the food and all the people are from somewhere else."
"Everything but the location," said Mark, and we all watched the sun sink into the ocean.
As we ate, we noticed people walking around with sculptures made out of tin foil. "Those are the doggie bags," said Mark, "Watch." He pointed to the waiter at the next table, who was turning the remains of a crab salad into a swan. Within five minutes, he'd disguised four other sets of leftovers as a penquin, a peacock, an oyster and a crab.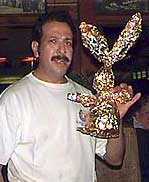 Miguel turns leftovers and tin foil into a work of art
"I'm going to make sure I don't eat everything," I said. "I want to watch him make one of those." Unfortunately, the food was really good, and when we were done, not one of us had anything left worth wrapping up.
"That's okay," said Miguel, when we explained our problem. I'll wrap up the bread." He went to work, and in less than a minute, he'd created an Easter bunny.
"How did you learn how to do that?" we asked. "By watching, and by practice," said Miguel. "Everybody here can do it, but I am the best."
When we went outside again, it was dark, but plenty of people were still walking on the beach. We admired the lights on the coastline as we waited for our cars.
"This place has the three most important keys to success," said Mark. "Location, location, and location."
Oh, and also good fish.

Gladstone's 4 Fish
17300 Pacific Coast Highway
(at Sunset Boulevard)
Malibu, CA
(310) 573-0212
If you're in a hurry, make reservations!