Restaurants of the Road
More Eateries

The Giggling Grizzly

Denver, Colorado
"...here I was in Denver. He let me off at Larimer Street. I stumbled along with the most wicked grin of joy in the world, among the old bums and beat cowboys of Larimer Street." That's Jack Kerouac talking in On the Road, and I'd just finished reading that chapter when we pulled into Denver ourselves.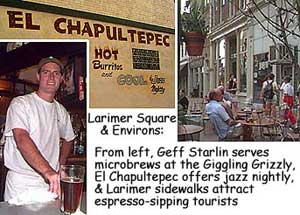 "Let's go to Larimer Street," I said, and we headed for the city center. Larimer Square, its new name now that it's an official historical zone with flagstone sidewalks and upscale eateries, boasts not a single old bum or beat cowboy. Nowadays its denizens pack cellular phones instead of six-shooters, and they drink Cinzano instead of white lighning.
We stopped in at a place professing to be a microbrewery with six different home-made ales. Once we sat down, we found out they had only two. We tried one of each, and both were bad. Beware of restaurants with old minor league baseball stars for mascots.
"I saw a place that looked good on a side street," said Mark. "Let's give it a try." A few blocks away from the flagstone and finery, we found the Giggling Grizzly. Geff Starlin, the manager and bartender, filled us in on the really good places to eat, drink, and listen to music in Denver. While we were listening, we tried an Odells 90 Shilling Ale and an H.C. Berger Indigo Pale Ale. "This is real beer," said Mark. The Giggling Grizzly has good grub, too.
"The Chapultepec next door has been here forever," Geff told us. "Everyone in town knows about it, and it's always packed on weekends. We get packed, too, especially when we have our $2-for-a-shot-of-anything-behind-the-bar night."
When we left, we poked our heads inside the Chapultepec. Two musicians were setting up, and at last we felt as though we'd found the current incarnation of Kerouac's Denver. Larimer Street has gone Godiva, but four blocks away you can still listen to jazz all night in a smoky barroom.
The Giggling Grizzly
1320 20th Street
Denver, CO 80202
(303) 297-8300
El Chapultepec
Corner of Market & 20th Streets
Denver, CO 80202
Megan
8/96