Restaurants of the Road
More Eateries

Ted Drewe's Frozen Custard
St. Louis, Missouri
Everyone in St. Louis knows about Ted Drewes. I think I'm safe in making this statement, and it's probably safe to say that nary a citizen has failed to consume one of Ted Drewes' confections at some time or other, most likely on the same kind of hot, sticky August day when we pulled up under the vintage "Frozen Custard" sign.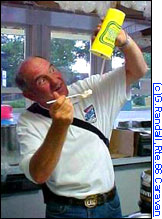 Could this be why they're called "concretes?" Guy Randall shows just how well a Ted Drewes ice cream treat can defy gravity.
Ted Drewes is classic Route 66, from the lightbulb-studded arrow above its well-weathered neon sign to the small walk-up windows staffed by yellow-shirted high school students.
Mark got in line while I circled, taking pictures. I'd already told him what I wanted: a vanilla concrete. Why Ted Drewes' milkshakes are called concretes nobody seems to remember, but they're the best-selling menu item, and they come in more than a dozen flavors. Some of the flavor names are also arcane. What's a "Fox Treat," for example? But of course it doesn't really matter. The point is, Ted Drewes' concretes (and everything else on the menu, for that matter) are cold, sweet, thick and yummy. It's no wonder he's still in business.
Here's another interesting Ted Drewes fact, just in case you happen by in the winter. In December, the menu expands to include...Christmas trees! (You should also know that Ted Drewes is closed for about four weeks during the coldest part of winter, usually early January through early February.)
Ted Drewes' Frozen Custard
6726 Chippewa
St. Louis, Missouri 63109
Megan
12/03
(Updated April 8, 2019)