Working on the Road: Links & Resources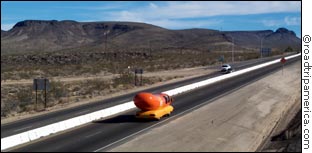 Want to drive the dog? Oscar Mayer Wienermobile drivers are called (what else?) "Hotdoggers," and must attend "Hot Dog High" in Madison, Wisconsin, before hitting the road. Click here for more info.
---
Be a Travel Nurse! This site matches skilled medical professionals with short-term assignments around the USA. We ran a couple of searches and found numerous positions offering both travel allowances and free lodging for the period of employment.
(2/6/05)
UShip Network: This is an interesting service where folks needing to transport furniture, artwork etc. will pay road trippers to transport the packages around the country. On the day we posted this link there were a couple hundred "offers" posted from about thirty states. "Offers" are the amount that shippers are willing to pay drivers to deliver the shipments. The Network charges a 8% transaction fee to meet its expenses. We aren't sure how well it works - but the concept is very interesting. (11/6/04)
---
"Awesome Applicants" Program: Tips & suggestions for locating volunteer & paid positions while living on the road
---
Remote Control of Your
PC Via the Web:
GoToMyPC
is a secure and easy way to access your computer from any browser-equipped computer anywhere in the world.
---
Seasonal Employement Resources: A+ Summer Jobs has listings for students and college grads. Provides reliable contacts, excellent job descriptions, resume building tools, and extensive insider tips for finding truly unique jobs in North America and around the world. Service costs $15/month or $30/year. One of the best sites of its type on the Web.
---
Support Your RV Lifestyle! An Insider's Guide to Working on the Road
If you've always dreamed of living on the road, and money is the reason you haven't, Jaimie Hall's Support Your RV Lifestyle should be the next book you read. Click here for our review.
---
Workamper News--America's Guide to Working While Camping has been a valuable resource for RVers seeking part- and full-time employment since 1987. In 2002, Workamper News began hosting job fairs to link mobile job seekers with potential employers.
---
Workers on Wheels
Coleen Sykora and Bob Niles started full-timing in early 1992. In 1994, they created a print newsletter called Workers on Wheels, providing tips and suggestions for finding work on the road. In 1999, they launched a Web site that provides resources for finding employement on the road. The site provides useful information about securing well-paying jobs.
---
How to Get Paid $50,000 a Year to Travel (Without Selling Anything) is a handbook and guide for those who'd like to get paid to deliver new RVs to dealers. Author Craig Chilton has packed this new edition with all you need to know about how to get into this lucrative part- or full-time career.
---
JobMonkey, Inc., run by Matt Lucas, is an excellent source for seasonal employment all over the United States, including Alaska.