On The Road:
Features by Authors, Experts, Gurus, & Guides
ON the ROAD with GARRY SOWERBY
Adventure Driver & Author of Sowerby's Road


Garry Sowerby
, holder of four world driving records and author of
Sowerby's Road
has been pushing the envelope of road trip adventure for the last twenty-five years. "I was driving from Ottawa, Ontario to Halifax, Nova Scotia with my old college buddy, Ken Langley, in the fall of 1977 when the idea first surfaced," he says. "We got into a discussion about what would be the ultimate road trip and it soon became clear that an around-the-world drive would be about as good as a road trip could get. Fascinated with the idea, we began organizing an attempt to break the Guinness World Record for Around-the-World driving. I resigned my commission as a Captain in the Canadian Forces and then, with 47 shareholders and much ado, Ken and I incorporated Odyssey International Limited." Currently, Garry is on the road driving from Halifax, Nova Scotia to Victoria, British Columbia championing the use of alternative fuels in two state-of-the-art GM hybrid trucks utilizing celluose ethanol and gasoline-electric combinations.
MISSION GREEN ON THE MOVE
by Garry Sowerby
I bent down to pick up a tattered piece of Styrofoam.
"You hit the mother lode!" George, a retired IBM executive, yelled across one of the main roads through Prince Edward County, Ontario.

My stomach heaved at the sight of hundreds of black ants covering the underside of the crumbling piece of packing material. I imagined the explosion of debris as the piece broke up on impact when it had hit the ditch.
I expected to be somewhat grossed out at what I encountered as I swept the ditch for trash, but legions of ants, I had not anticipated.
Over the next hour, I filled three large garbage bags with junk food wrappers, faded coffee cups, empty cigarette packages, beer bottles, and dozens of cigarette butts.
There were plenty of ants, but my fear of coming face-to-face with a decomposing specimen of roadkill luckily never materialized. I felt a full range of emotions toiling there in the humidity; anger, disappointment, and eventually calm as I obsessed on picking up every bit of trash in my assigned area.
It was Day 11 of Mission Green, our cross-Canada road trip to salute 85 environmental initiatives, and Prince Edward County's annual Trash Bash put our Green Team into the trenches. Earlier this year, 800 people had hit the ditches on a one-day sweep of 360 miles of the county's roads, so our 5.5-mile stretch was only a sample of what the volunteers have gone through for the past 12 years.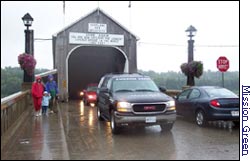 Hartland, New Brunswick: One of Mission Green's hybrid truck emerges from the longest covered bridge in the world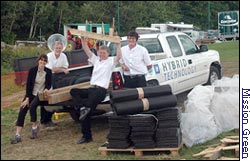 Lisa Calvi, Garry Sowerby, Bill Rumsey, and Stew Yule unload recycled materials to build a house in Mont Arthabaska, Quebec
Mission Green collects roadside refuse in the annual Prince Edward County "Trash Bash"
A load of used sneakers collected in Moncton, New Brunswick, as part of the Re-Use-A-Shoe recycling program
Since our first salute to the Halifax Harbour Cleanup on August 16th Bill Rumsey, Stewart Yule, and I have driven two advanced-technology General Motors trucks a total of about 5,600 miles. During the first quarter of our quest, we surveyed the Sydney Tar Ponds, tiptoed around a nesting area of the endangered Piping Plover and visited the set of a television series that documents the construction of a house made entirely of recycled or rejected materials.
We've loaded our Hybrid Chevy Silverado with worn sneakers bound for a Nike facility where they will be recycled into athletic products, hauled boxes of compost out of an Ontario resort and removed the spoils of our Trash Bash salute.
At Acadia University in Wolfville, Nova Scotia, Chancellor Arthur Irving proudly showed us some of the research being carried out at the Harriet Irving Botanical Gardens on bio-soil remediation, using plants to clean up contaminated soil. We've seen the inner workings of an off-the-power-grid home.
We do not profess to be experts on any of the initiatives we visit but certainly know a lot more about what is going on in this country on the environmental front than we did two weeks ago.
A few common denominators have emerged, like the importance of education, of getting the word out. If change is to take place, we must realize what has to be changed, why it must be changed and understand that there are realistic and often relatively simple ways to go about the process.
Mission Green is doing a little educating of its own. Interest in the Chevy Hybrid truck's 15% fuel savings without compromising utility has surprised plenty of the folk we've met along the way. The fact that the cellulose-based ethanol we are fueling the flex-fuel GMC Yukon with reduces greenhouse gases by a staggering 90% is a statement no one concerned with our environment can ignore.
But what has impressed me the most on this cross-country trek is the passion of the people involved in the initiatives we have visited. Management's dedication to ambitious plans and researchers' visions of what their work will do for future generations is obvious.
And as the sweat dripped down my forehead on that muggy afternoon in the ditches of Prince Edward County, the reality of what the workers deal with came through big time. Environmental initiatives take plenty of sweat and hard physical work and those people doing the sorting, the picking up and the cleaning are the front line. It's a dirty job.
And now, a few days beyond our salute to Trash Bash, the ant bites are still itching. But I can live with them. After all, those ants were just doing their bit to clean up some of the trash that finds its way out of car windows.
Check out Mission Green's progress online!

Garry Sowerby
September 12, 2004