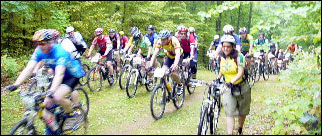 The lead pack passes Medical/First Response Team Member Jillian Imilkowski
FIELD REPORT
by Jillian Imilkowski
CHEQUAMEGON, WISCONSIN—
[ABOUT THE RACE][GETTING THERE][HELPFUL LINKS]
I sat a the top of a grassy knoll, waiting for the 1500 riders to scream over the crest. And, boy oh boy, did they ever. One ATV and 30-seconds later, I got what I expected. Within minutes I was being passed on all sides by a stream of racers fighting to find ground on the slick grass along narrow paths.
Over the course of the day, I set two broken collar bones, wrapped three potentially fractured and two definitely fractured ankles, applied band aids and ointment, and helped fix innumerable blown out tires, gummed chains, bent rims, and popped tubes. But considering the concentration of riders and the ratio to medical staff the day was surprisingly smooth. Trips to the hospital were, from what I've been told, down from last year, no one had to be Med-evacuated on the helicopter, and everyone had a great time.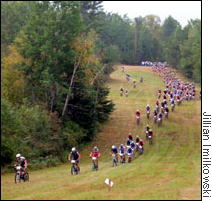 For the most part, it was a blast being able to ride the course at my own pace, and not tear out my knees (or lungs) trying to get to the finish line as fast as I could. But I have to say, it was easily the most surreal experience I've biked through—riding in a pack of 50+ bikers at a time, easily and without incident, while other patrollers and EMT are calmly chatting into my earpiece about a "severe laceration above the right knee—I can see the muscle" and "a collapsed chest cavity at mile marker [insert number here]."
Jillian Imilkowski, the Assistant Patrol Director for WORBA (Wisconsin Off-Road Bicycle Association), served on the Medical/First Response Team at the 21st annual Chequamegon Fat Tire Festival in Cable, Wisconsin, on September 13, 2003. Jillian was part of a 50-member bike patrol comprised of EMTs, and patrol-certified riders from Minnesota, Wisconsin and Illinois who assisted with mechanical and physical breakdowns.