Art in the Fast Lane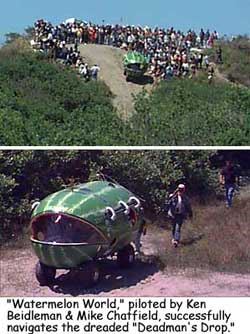 Humboldt County, California—
The World Championship Great Arcata to Ferndale Cross-Country Kinetic Sculpture Race is a major challenge for the participants,but race spectators are kept hopping, too. Nobody wants to miss seeing 137 human-powered works of art attempt "Deadman's Drop," "Slimy Slope," and the two water crossings along the 42-mile course.
Day One's big challenge is "Deadman's Drop," which, as the name implies, is a steep thrill-ride down a sand dune. Not as swift but probably more challenging is getting up the dune in the first place. Many of the sculptures have special tires designed to work well in sand, but strong thighs and low gears are also invaluable.
Kinetic sculpture designers have to build their art to work well on pavement, too. In addition to city streets and country lanes, the Kinetic Sculpture Race includes a few miles of Highway 101, the major thoroughfare of California's coast. Trucks have to be extra careful on Memorial Day Weekend!
Even though the sculptures must meet many legal and safety requirements, the "Official Rules" are more emphatic about employing "ingenuity, tenacity, and artistic license," and "ensuring honor and glory for all." A good attitude is required, or as rule #10.00 puts it: "It is mandatory that all Sculpture Pilots, Pit Crews, Peons, Officials, Spectators, Law Enforcement, Communicators, Volunteers, Merchants, Vendors, and even Innocent Bystanders must put great effort into having fun! If you insist on being grumpy, you may declare Diplomatic Immunity. We reserve the right to adjudicate any such declaration."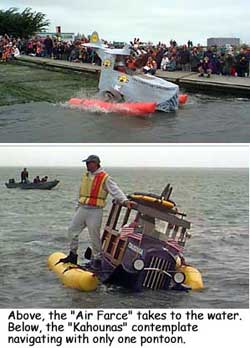 Rule #2.01 has a reassuring tone: "Since mothers are discouraged from running alongside, racers must carry a comforting item of psychological luxury no smaller than a restaurant coffee cup at all times-- an old soft security blanket (e.g. 'binkie') or a soft teddy bear or sock doll will suffice." The rest of the rules make good reading, too, and reflect the abundant goodwill, ubiquitous hilarity, and spirited camaraderie of the event.
The biggest hurdles facing kinetic sculptors are the two water crossings. On Day Two, the race course includes Humboldt Bay, not a minor body of water. Unfortunately, winds gusting over 35 miles an hour on Sunday kept the colorful crafts close to shore, and the race course was changed to go around the bay instead of across it. Even so, we saw with our own eyes that the sculptures really were carrying all the flotation devices they needed (including the life jackets required for teddy bears) to metamorphose into seafaring vessels.