Pumping for Glory!
BOULDER CITY, NEVADA—
The Rattlin' Rails International Short Course Handcar Championship
"Handcar racing? What's that?" As any pumper will tell you, that's a common response when the topic comes up in conversation. Handcar racing is a growing sport, but it's still largely unheard of in the population at large.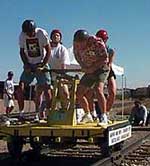 The "Old Strokers," a men's
masters team, qualify for the race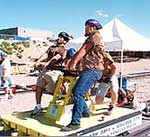 "Labor Union 782" pushes off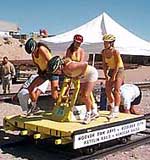 "Raging Rails," a women's
team from British Columbia
Full extension in the
Women's Pusher's Contest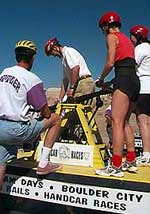 Mark
is drafted as an emergency "Old Stroker"
A handcar, in case you're among those who haven't yet tuned in to the emerging phenomenon, is a vehicle left over from the early days of the railroad, a small platform on wheels that moves along a track under human power. Propelled by a seesaw mechanism attached to a gearing system, a handcar can achieve speeds in excess of twenty-five miles an hour on a flat track.
Nowadays, handcars are built especially for racing. Four pumpers ride on the car, which starts the race from a dead stop. This would mean an excruciatingly slow start if it weren't for the fifth member of the team, the pusher. The pusher crouches down behind the car, bracing his (or her) feet against a railroad tie. When the race begins, the pusher, hands on the end of the car, thrusts it forward and belly flops onto the tracks, where a foam mat is placed to prevent injury. The pumpers take the car across the finish line as fast as they can, after which a designated team member stamps on the brake. And that's a handcar race. It's simple. It's fun. It's exhilarating.
We found out about handcar racing from Robert Spurlock, a Boulder City resident who suggested we attend the ninth annual Rattlin' Rails International Short Course Handcar Championship. On Sunday, September 24, 2000, we joined the throng at the railroad tracks in Boulder City. Nearly forty teams from the United States and Canada competed for medals, trophies, and glory. When the competition was over, everyone sat down to a lavish barbecue hosted by the Boulder City Kiwanis Club.
"What I like about handcar racing is the camaraderie," said Bruce Lenon, the assistant race director. "There are no trade secrets."
What I liked about it was the variety among the competitors. A team of women over the age of seventy made the first run of the day, and teams made up of all ages and both sexes competed all afternoon. Requirements are simple. You have to be eighteen. You have to wear a bicycle helmet. You have to dress appropriately. You have to attend a practice session. But that's it. And that's why more and more people are giving handcar racing a try. Even Mark gave it a try, becoming an emergency "Old Stroker" when one team member was unable to compete.
If you're interested in finding a handcar venue where you live, visit www.handcar.org for a comprehensive list of clubs and races. You'll also find the official results for the Short Course Championships in Boulder City and lots more photos.
Megan
September 24, 2000
9/03 Update: The race normally scheduled for the last week in September in Boulder City, Nevada, has been cancelled. Additional races include events in Seward, Alaska, and the U.S. National Handcar Races in Sacramento, California, in early October. Click here for more information.