It's Electric!
Tucson, Arizona —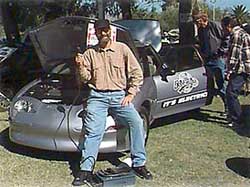 Bob Bookman with his General Motors EV1,
the world's first mass-produced electric car
Bob Bookman of Tucson, Arizona, always attracts a crowd at car shows with his EV1, the General Motors' electric vehicle that he's been driving for six months. He had it on display at the 18th Annual Casa Car Show in Tucson, Arizona, on Saturday, October 25, 1997.

It's the world's first mass-produced electric car. It's available by lease only through certain Saturn dealers. "It's a special lease that includes a lot more than an ordinary car lease," explains Bob. "Maintenance and tires, for example, and even windshield wipers." At the end of the 3-year lease period, GM will take the car back. "They want to tear it apart and see how it did," says Bob. "I'm really part of a huge experiment."

The EV1 will go about 70 to 90 miles before it needs a recharge. "It's a great second car," comments Bob. "It's perfect for around town." Powered by twenty-six 12-volt batteries, the car has a top speed of 80 miles per hour.

It takes between two and four hours to recharge the batteries if they're fully discharged, but it can be "topped off" in about an hour. You can lease or buy a home charging unit, and public charging stations are being installed in many places. "It costs about $1.50 to fully charge the batteries," says Bob.

The EV1 costs about $549 a month to lease. "It's the future," declares this happy owner. And it's here now!
October 25, 1997