Big Rigs with Style & Shine!
Las Vegas, Nevada—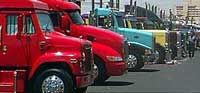 Super tractors with extra bells & whistles meet at a truck show in Las Vegas
"Show & Shine," where participants display their custom tractors and trailers for the edification of all comers, is a popular event at the ITS annual truck show (even in 110-degree weather!) Below are just a few of the rolling wonders on exhibit in the parking lot of the Las Vegas Convention Center on Friday, June 30, 2000.
| | |
| --- | --- |
| This "Paddy Wagon" is "protected by Smith & Wesson" | Trucker's RV |
| A glamorous Peterbilt outshines the Las Vegas Hilton | This rig is complete with "always on" satellite TV and lavish living quarters |
| We don't know how the horses fare, but their drivers travel in luxury! | This vintage hybrid wasn't in the show, but it was worth a photo anyway! |
June 30, 2000