Classic Cars at the Imperial Palace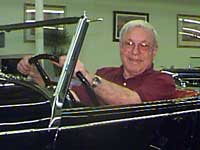 John Tsitouras in the driver's seat of Howard Hughes' 1929 J Murphy "Disappearing Top" Duesenberg Roadster, pictured below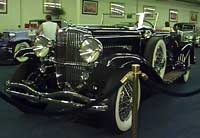 Las Vegas, Nevada—

John Tsitouras is a physicist by profession. For thirty-eight years, he worked for the engineering firm that ran the Nevada Test Site. "We triggered bombs," he says, and his memories from World War II through the Cold War era would be reason enough to pay him a visit. But you won't find John in Area 51 these days. We caught up with him at the Auto Collections at the Imperial Palace Hotel in Las Vegas, where his other area of expertise is in demand. John Tsitouras is a collector and connoisseur of classic cars, and for a couple of days each week, he's the person you'll talk to if you want to buy one of the vintage vehicles on display on the fifth floor of Las Vegas' most exclusive parking garage.
The Auto Collections are one of the world's largest classic car showcases, unlike a museum because the bulk of the vehicles on display are for sale, more than 350 of them. And while a number of them are priced in the million-dollar range, there are plenty of cool cars available for everyman prices, too. Vintage Mustangs rub shoulders with Rolls Royces, and you might find a Volkswagen next to a Chrysler that once belonged to a president. Jackie Kennedy's 1961 Lincoln Continental convertible is available for $55,000, and a 1967 Mercedes 250 SE Coupe can be had for $24,500. "That's a great car," said John as we admired the Mercedes. "Like new."
Of course, it's the Duesenbergs, Cords and Rolls Royces that draw in the crowds. The Collections tally hundreds of thousands of visitors every year, and more than a million are anticipated in 2001. The Collections' Web site may well be part of the reason. All currently available cars are listed on the site, and judging from the time we spent at John's desk, they generate a prodigious number of telephone inquiries. As we chatted, a call came in about a 1958 red Pontiac convertible, and someone else wanted to know more about a 1972 Oldsmobile Cutlass. "The Cutlass is $22,500," said John. "I'm sure it's negotiable."
John, who currently has a Ferrari and a rare 1957 Pegaso in his private collection, began collecting cars decades ago. He owned a Cord in the 1960's, and he still remembers it fondly. "It was a fantastic car," he reminisced. "I should never have let it go."
As we followed John through the collection, his comments were thickly peppered with names of the rich and famous. "This was Howard Hughes' Chrysler," he said, leading us around to the back. The trunk was completely filled by a large filtration system Hughes had installed to keep out any bugs. The car had fewer than 2,000 miles on the odometer.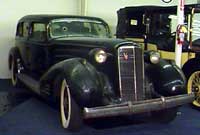 1936 Cadillac V 16 Armored Limousine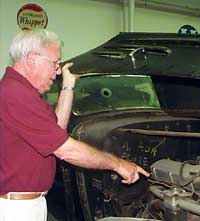 John Tsitouras points out armor plating and engine features
Next, John pointed out the only unrestored car in the collection, a 1936 Cadillac V 16 armored limousine used by Franklin Roosevelt. The car was equipped with thick, bullet-proof windows and windshield. When we asked about the round holes cut in each pane, "They're for guns," said John. "Secret Service agents could shoot through them from the inside."
"This is the best Duesenberg in the world," said John when we arrived at a 1935 Bohman and Schwartz Town Car. "Look at the workmanship! Look at the paint job! Isn't that something?" And then there was Walter Chrysler's wife's car, Eisenhower's convertible, Liberace's Rolls Royce, and a Duesenberg that just might have belonged to Edgar Rice Burroughs. "And look at this," continued John, guiding us to a 1922 Renault Kellner Town Car. "Remember the car in the Titanic movie where the two stars have their romantic rendezvous? This is the same kind of car. Take a look at the back seat!" For a mere $275,000, we learned, we could own that back seat.
Perfect roadtrip cars abound in the Auto Collections. Obvious choices included a 1964 red Corvette and a 1958 Cadillac convertible perfect for a Kerouac-inspired joyride. For a slightly higher price, it might be fun to cruise Interstate 10 in a 1930 Cord Cabriolet painted an eye-catching shade of lavender.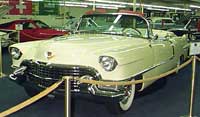 1955 El Dorado Cadillac convertible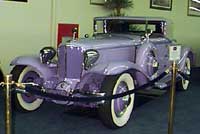 1930 Cord L-29 Cabriolet
The Auto Collections are the current incarnation of a collection first begun by Ralph Englestead, owner of the Imperial Palace Hotel. The Collections are now owned by Englestead, Richie Clyne, and Don Williams. Cars are offered for sale on consignment, and every year a prestigious auction draws buyers and sellers from around the world.
"Come back again," said John Tsitouras as we departed. "There's always something new here." But if you want a new car, the Auto Collections are not the place to head. They're for those who want something better than new. They're a place to buy history, glamour, or classic style. If you're lucky, John Tsitouras will be on hand to guide you to your dream car.
The Auto Collections
Imperial Palace
3535 S. Las Vegas Boulevard
Las Vegas, NV 89109
www.AutocollectionS.com
April 30, 2001