| | | | |
| --- | --- | --- | --- |
| | You Got It! | | |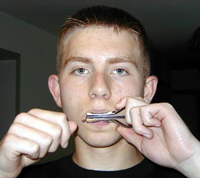 Ben Ferrone demonstrates how to play a Jew's harp
Yes! It's a "Jew's Harp!"
According to The Jew's Harp Guild it "is a small musical instrument which is held against the teeth or lips, and plucked with the fingers. Its appearance in many cultures of the world, and ancient roots, attest to the magical essence of this simple instrument." For more about the history of the instrument and to listen to sound clips, visit the Jew's Harp Guild Web site.
Thanks to Susan Ferrone of Abingdon, Maryland for submitting this gizmo!

RTA's Newest Funny Signs