| | | | |
| --- | --- | --- | --- |
| | You Got It! | | |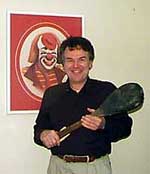 You're right! It's a slapstick!
A slapstick is an important part of a clown's paraphernalia, as Earl "Mr. Clown" Chaney, pictured here with his vintage slapstick, can tell you from thirty year's experience. Padded on one side, the oher side holds a "blank" that is set off by the force of a hinged wooden panel that acts as a hammer when it's put to use in comedy routines. If you were wondering where the term "slapstick" came from, now you know!
1/01
RTA's Newest Funny Signs