| | | | |
| --- | --- | --- | --- |
| | You Got It! | | |

The lead horse looks out over the Columbia River in Washington
They're Horses!
Okay, you do have to look at them from the right angle to enjoy the artist's remarkable talent. These beautiful and surprisingly lifelike sculptures -- sixteen horses in all -- stand on a bluff overlooking the Coulumbia River near the town of Vantage in central Washington. If you aren't expecting them, their silhouettes will have you believing you're looking at a real herd thundering up the ridgeline.

The Wild Horses Monument at Wanapum Vista Overlook on Interstate 90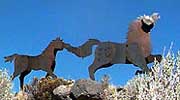 On closer inspection, one can see the artist's methods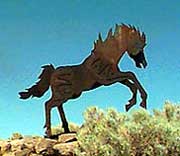 No two horses are alike
The wild horses, which are made of welded steel plates, are the work of Spokane artist David Govedare. He is best known in Spokane for another multi-membered steel sculpture in Riverfront Park,"The Joy of Running." This work celebrates the annual Bloomsday Race, a twelve-kilometer run that attracts tens of thousands of participants every May.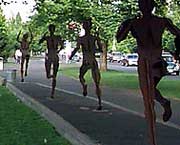 Just a few of dozens of life-like joggers that comprise "The Joy of Running" in Spokane's Riverfront Park

7/99
RTA's Newest Funny Signs