| | | | |
| --- | --- | --- | --- |
| | You Got It! | | |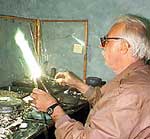 Sam McDaniel demonstates a newer glass-blowing torch at his studio in St. Helens, Oregon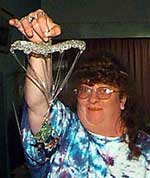 Marsha McDaniel displays one of her glass creations, a parachuting frog
It's for blowing glass!
Powered by compressed air, gas, and oxygen, the torch was used by glass blowers in much the same way similar torches are used today in the creation of art glass.
We came across this specimen in the studio of Marsha and Sam McDaniel in St. Helens, Oregon, where the couple is known for whimsical animal creations and delicate glass flowers.
7/99
RTA's Newest Funny Signs