| | | | |
| --- | --- | --- | --- |
| | You Got It! | | |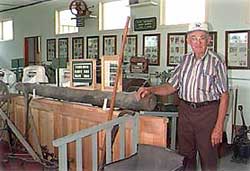 They're corn planters!
They allow a user to plant corn kernels by poking holes into the ground and releasing kernels stored in the compartments on the side of the handles. They are just two of the many implements, machines, cars and relics to be found in Ray's Museum of Years Past in Oshkosh, Wisconsin. Ray Streblow is pictured above with his hand on a section of Oshkosh's original gas main. It was made from a hollowed-out log!
RTA's Newest Funny Signs