| | | | |
| --- | --- | --- | --- |
| | You Got It! | | |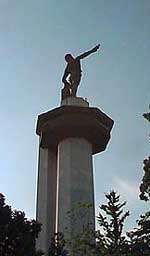 It's In Alabama!
The fiber glass leg stands at the edge of the parking lot in Birmingham's Vulcan Park, apparently to give visitors a feel for the size of the world's largest iron man.
Vulcan reigns over Iron City from a perch atop an observation tower on Red Mountain. After his debut at an exposition in St. Louis in 1904, he came home to reside in his own park, where he has become Birmingham's best-loved monument. He weighs in at 120,000 pounds, the biggest iron statue ever cast.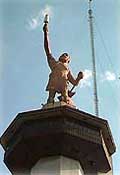 Vulcan holds an electric torch that glows green unless someone in Birmingham has died in an automobile accident. Then it turns red for a day. It's a nineties job for an ancient god, who, according to the brochure in the visitors' center, is also "available for weddings, picnics, family reunions and social events."
RTA's Newest Funny Signs