| | | | |
| --- | --- | --- | --- |
| | You Got It! | | |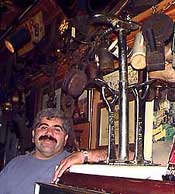 It's a remote control device used to run locomotives in work yards without having an engineer on board. It allows one engineer to pilot several train engines at one time. It's just one of many artifacts preserved in the amazing display at Chiodo's Tavern in Pittsburgh, Pennsylvania. In the photograph, Joe Chiodo poses with more items in the remarkable Chiodo collection.
March 25th, 2005: Chiodo's closed its doors forever following a farewell gathering of hundreds of regulars, admirers, and friends.
RTA's Newest Funny Signs