| | | | |
| --- | --- | --- | --- |
| | You Got It! | | |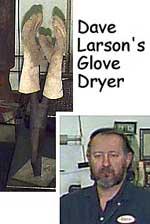 It's a glove dryer!
David Larsen, radiator specialist at Evergreen Collision Center in Port Angeles, Washington, needed a way to dry his welding gloves. "An old-time radiator man had one of these, and I made one for myself. My gloves get saturated with caustic chemicals and radiator water, and this thing works excellently if I set it over the same drying rack we use on the radiators. The heat comes right up the tubes and dries my gloves."
RTA's Newest Funny Signs