| | | | |
| --- | --- | --- | --- |
| | You Got It! | | |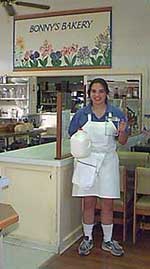 It's a carton holder!
This aluminum holder was designed to hold a half-gallon milk carton, but, as Sara Childers demonstrates, milk comes in bigger containers at Bonny's Bakery in Port Angeles, Washington.
If you're ever in this lovely town on the Olympic Peninsula, just follow signs for the post office. Bonny's Bakery, owned by Bonny Kelley, is right next door in a building that was once a church. The walnut bread we tried was wonderful, and the cinammon rolls were simply heavenly. The coffee's great, too.
RTA's Newest Funny Signs