| | | | |
| --- | --- | --- | --- |
| | You Got It! | | |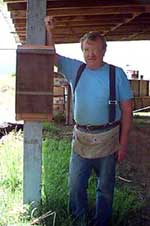 It's a bat house!
Dave (pictured here) and Louise Ogden, of Eureka, California, construct these bat houses according to Merlin Tuttle's specifications. "Professor Merlin Tuttle is the Indiana Jones of 'batology,'" says Dave. "He's based at the University of Texas, but he's studied bats all over the world. Did you know that one bat eats 500-600 insects per hour? That's why people who want an ecologically sound, totally safe and effective way to control bugs buy our bat houses. We sell a lot of them in the southern states."
If you'd like to install a mosquito-eating machine in your back yard, just give Dave & Louise a call. Their mail-order catalogue also features a complete line of bird houses, custom-designed for different species.
Strictly for the Birds, 123 "F" Street, Eureka, CA 95501
Telephone: (800) 652-1822 or (707) 445-1822
RTA's Newest Funny Signs