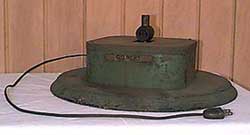 A. A party hat. The cord provides power for a light. Also plays "Auld Lang Syne."
B. An electric Christmas tree spinner with an internal music box that plays "Rudolph the Red-nosed Reindeer."
C. The base of an old floor lamp. Makes no sound.
D. An antique radio. When the antenna's in place, it'll play whatever's on the air.