Make Old Fiberglass Shine
by Paul Bernhagen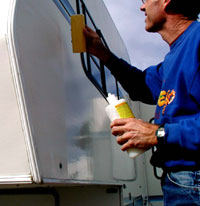 Nice new shine: Paul Bernhagen applies Poli Glow fiberglass restorer to his Filon-sided RV.
The shine on our six-year old Filon (fiberglass) sided RV was gone. Glass fibers were even exposed on the surface. Waxes no longer worked and painting was the only recommendation the Filon manufacturer could give. Searching the Internet under "fiberglass restoration" revealed several other alternatives for a fraction of the cost of painting. "Poli Glow" was the product I chose which the boating industry has used since 1991. The two step process couldn't be easier, leaving the RV looking new again. Poli Glow is an acrylic, not a wax, that is applied similar to varnish.
Step one, using "Poli Prep", removed years of waxing, oxidation and road grime leaving the RV remarkably clean and much brighter. Step two, using Poli Glow applied in four to six layers (each layer dries in a minute), made the RV shine like new and even embedded the glass fibers. No buffing required. The process took only two days for these amazing results that should last for over a year. Simply apply two to three coats of Poli Glow, when needed to restore the shine.
Poli Glow sells a complete kit consisting of Poli Prep, Poli
Glow, scrub pad, gloves and applicators. An extra quart of Poli Glow was needed for our trailer. The total cost to restore our 29-foot fifth wheel was about $100.00.
Paul Bernhagen is an expert RV full-timer. He and his wife Stephanie are the authors of Take Back Your Life: Travel Full-Time in a RV and have been living on the road since 1994. For more tips and suggestions click here.