Can RVing Improve A Relationship?
by Judy Farrow and Lou Stoetzer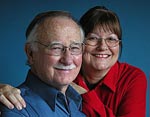 Lou Stoetzer, MSW, PhD, and Judith Farrow, CADC, BS, have been married for fifteen years and have been living and working together (they even spent a season with a traveling circus!) full-time in an RV since 1994. Both are retired mental health professionals who undertook a three-year research project studying how RVers felt about their lives. The results of their pioneering research were recently published:
RVers—How Do They Live Like That? Answers for Those Who Wonder
. (
Click here to read a review
.) Lou is also a private coach, assisting full-timers with issues relating to finding personal space in the relatively cramped space of an RV, dealing with loneliness on the road, and coping with family problems "back home." Lou and Judy may be contacted at
rvanswers@escapees.com
.
Click here to visit their Web site
.
Lou: In 2001, we surveyed hundreds of RVing couples here and in Canada, especially couples who spend most of their time on the road. We found that teamwork, frequent communication, and mutual appreciation increased marital satisfaction among RVers. We wrote our book based on this and other findings in RVers: How Do They Live Like That? Answers for those who wonder.

Judy: The theme we kept hearing was, "We had a good marriage before we started RVing, and being together on the road made it even better." Most of the couples we spoke with identified themselves as full-timers (or nearly so) and were retired or worked from their rig. We imagine that couples who didn't enjoy all that time together had already left RV life, and weren't part of our focus groups or willing to talk with us privately. One man told us, "We started out as best friends. But running a household, building careers and bringing up kids put lots of stress on our time alone together which didn't happen often." Then his wife added, "When we started out on our first RV trip, all that uninterrupted time gave us a chance to get to know each other all over again. It was kind of a second honeymoon."

Lou: We learned some common reasons for this reported happiness. Most committed RVers had a long history before they hit the road. Those on their first marriage had spent over 25 years together before becoming RVers. Remarried couples had an average of over 12 years together. These couples had common interests, and many had worked as a team, either on volunteer projects or running the family business. They were strongly committed folks who knew how to work together and trouble-shoot life's problems.

Judy: We're often asked by non-RVers, "Does one of you do all the driving? How do you decide where to go? Who does the laundry?" We usually joke that the one who is awake drives, that we take turns deciding where to go, and that Lou does the laundry because he likes to get out of the house.

Lou: Speaking of laundry, the jobs aboard an RV and who does what are things that couples are constantly readjusting. Maybe he develops an interest in cooking (or doing the laundry). After she gets used to his friendly intrusion into her space, she may take over paying bills, or perhaps she discovers a liking for what is traditionally thought of as "men's work," like the petite woman we met who was more comfortable cleaning the roof than her husband was. There are other examples of couples who go against convention. Sometime a woman prefers to do most of the driving, and her husband may (slowly but eventually) learn to give her encouragement from the passenger's seat.

Judy: A change in the division of labor represents a healthy shift. This change leads to recognition of mutual dependence and a new appreciation for each other. Competition is replaced by praise and affection.

Lou: A relationship that increases mutual exchanges of affection would prompt anyone to say, "Our marriage was good when we started RVing, and now it's better than ever!"
Lou Stoetzer & Judy Farrow
6/6/04