---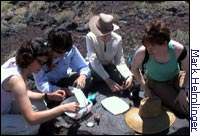 Oxford University students Anne Osborne, Marcus Badger, Beth Shaw, and Julia Cartwright examine a geocache near Lunar Crater volcanic field in Nevada.
My introduction to geocaching was a search for the "Long Tube." At a rally last winter in Quartzsite, Arizona, friends Pam and Steve Ritchie taught a class on Global Positioning Satellite (GPS) devices and introduced us to the adventure of hunting for geocaches.
After an introductory lesson, we entered the coordinates of our start location and the cache into our GPS devices, then caravanned to the Fisherman Intaglio, an archaeological site featuring several large geoglyphs etched into the desert floor near the Colorado River. After parking, we set off on a short walk across the desert to the coordinates. A GPS device only gets you within 10-20 feet so we then had to look for the cache.
Once we'd spotted it, we carefully removed the PVC tube from its hiding place and looked inside. Ours contained a logbook and several small dollar-store-type items. According to geocaching rules:
Take an item
Leave another in its place
Write about it in the log book (or TNLN for "took nothing, left nothing")
Return the cache to the exact position and coordinates where it was found.
On our return, we enjoyed a side benefit of geocaching -- exploring the nearby area. The Fisherman Intaglio archaeological site is fascinating to visit.
GETTING STARTED
Begin by looking at Geocaching.com, which has pages on how geocaching works and listings of caches. Geocaches can be found hidden all over the world, in every type of environment, from easy to difficult to access and find. Geocaching doesn't require a fancy GPS unit, though some features are more suited to the sport. Click here for helpful suggestion from GPS manufacturer Garmin. Another site with lots of good information is GPS Practice & Fun.
Added Fun! As the sport of geocaching grows, twists and contests add fun. You might find a "travel bug," a trackable tag which you carry to another cache. These hitchhikers have their own Web sites and often have a task, such as traveling to another country. Other twists include searching for NGS benchmarks (metal markers placed across the U. S. by the National Geographic Survey) and organized challenges like CacheAcrossAmerica. GPS manufacturer Magellan is sponsoring the "Cache Her If You Can" contest in summer 2004.
Sensitive Lands: Many government agencies and geocachers are concerned about the negative impact the sport can have on cultural sites and the environment. Debate is ongoing at geocaching discussion groups. Certain areas, including U.S. national parks, are off limits to caches. Any historical site, archaeological site, or location where human traffic could disturb endangered wildlife or plants should be avoided. Some people advocate moving a cache once a year to prevent a path from being worn to its location. On the other hand, several state park systems including West Virginia State Parks list caches in their parks.
For many, the biggest reward of geocaching is the thrill of the search and the discovery of a place that they have never been. Geocaching dovetails nicely with the RV lifestyle. One RV couple recently found their 1,138th geocache and along with it a beautiful, free Forest Service campground. Life is good!

Jaimie Hall
8/1/04