Discover America by RV
, by Shirley Slater & Harry Basch
VIDEO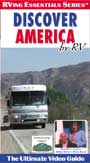 "Lookin' for adventure? Get out on the highway!"
Discover America by RV is a brand new video hosted by Shirley Slater and Harry Basch. The 35-minute program provides an excellent overview of the possibilities afforded by road trips. Shirley and Harry share a number of personal discoveries from holidays spent on the road. Spectacular footage includes scenery from the rugged coasts of Maine, the subtropical jungles of central Florida, and the stark desertscapes in Utah's Bryce Canyon National Park to magnificent waterfalls in Oregon's Cascade mountains.
Along the way, viewers will also visit the Spam and JellyBelly factories, learn the best times to seek campsites along the Alaskan Highway, and see a variety of RVs on the road. Harry and Shirley also provide tips about Internet access, renting RVs, and traveling with pets.
Harry and Shirley produce a monthly newsletter called "Harry's RV Adventures" and have been published travel writers for more than twenty years. They are the authors of RV Vacations for Dummies and Frommer's Exploring America by RV. Their engaging manner will make you yearn for the open road, and their practical information will ensure your next road trip is a great one.
Mark
3/02