An Evening's Drive Through Washington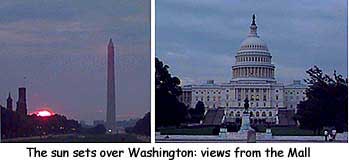 WASHINGTON, DC—
We drove into the capital at about 6 p.m., expecting that rush hour would be winding down. We were wrong. Arriving in the city center, we crawled from DuPont Circle to the Mall. Things weren't quite as busy in front of the Capitol, and we paused to watch the evening gather, the lights come on inside the rotunda, and the sun set over the Washington Monument. The Mall came alive with joggers and people walking dogs. It was a quiet contrast to the hustle and bustle just a few blocks away.
Driving west, we accidentally crossed the bridge over the Potomac River. As we returned, we had a beautiful twilight view of the Washington Monument and the Jefferson Memorial.
We headed back on Constitution Avenue, and found ourselves in the midst of a fleet of limousines heading for a huge gathering at the National Gallery of Art. Streets were blocked off near the museum, and big white tents had been erected on the lawns.
By this time, it was genuinely dark. All the streets leading to the White House seemed to end in barricades, and we decided we'd better save that foray for daylight. As we drove back to College Park, Maryland, we agreed that Pierre L'Enfant's 1791 master plan has stood the test of time admirably. Even with 200 years of expansion and population growth, the United States still hasn't outgrown its Capitol. It's as majestic as ever, and there's even room for a 32-foot motor home to park right in front!