Beneath the Sidewalks of New York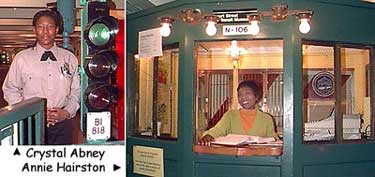 In the year 2000, New York's subway system will celebrate its centennial. The place to go to see how the world's most famous underground railway got its start and evolved into a system that carries 3.5 million passengers a day is the New York Transit Museum in Brooklyn. Our guide for the day was Matthew Brennesholtz, who's been riding New York subways since childhood.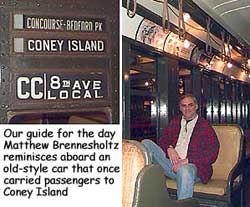 The Transit Museum is housed appropriately in a real 1930s subway station that's no longer in use. Annie Hairston welcomed us from the reception desk that used to be the token booth. She told us the museum was founded twenty years ago and just recently came under the aegis of the Metropolitan Transit Authority. The new connection will give the museum more support, she said.
On the first level is a display of turnstiles dating back to the subway's youth and a new display called "Steel, Stone and Backbone," which shows how the network was built by 30,000 workers drawn from New York's immigrant communities.
We descended to the lower level, where the evolution of subway cars is illustrated with examples from every decade. Early cars with incandescent lighting and wicker upholstery gave way to units with molded plastic seats and 'germicidal lighting' in the sixties. The lights, which were supposed to sterilize the unhealthy air in the tunnels, were removed when it was learned that overexposure to the light itself was a health hazard.
The museum also has trolleys, buses, and displays of tickets and tokens. The gift shop sells jewely made of subway artifacts along with books, t-shirts and mementos for train lovers. We talked to Crystal Abney, the museum's property protection agent, before we left. One of her more challenging tasks is to make sure souvenir hounds get their memorabilia from the gift shop, and not from the trains themselves.
We left the museum through a turnstile used in the 1930s and emerged into a sunny day in Brooklyn with new appreciation for New York's underground wonder.
New York Transit Museum
Mailing address: 130 Livingston Street, 9th Floor, Box E
Brooklyn, New York
(718) 243-8601
Visit the MTA's Web site at http://www.mta.nyc.ny.us