Thunder Mountain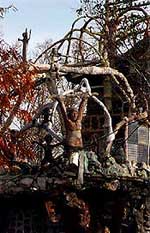 IMLAY, NEVADA—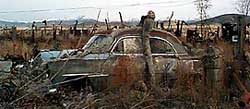 Thunder Mountain is a remarkable agglomeration that calls silently from the side of Interstate 80 near Imlay, Nevada. The buildings and sculptures, the tallest of which is three stories high, were built from any and all available resources: old cars and machinery, bottles, wheels, railroad ties, tree branches and an impressive amount of concrete.


Thunder Mountain was constructed over the course of a decade beginning in 1967 by a man named Rolling Mountain Thunder. Born Frank Van Zandt, Rolling Mountain Thunder lived on the site with his family and dedicated it as a monument to the plight of Native Americans. Rolling Mountain
Thunder died by his own hand at Thunder Mountain in 1989.
10/98