Shopping in the Enchanted Forest
PENNSYVANIA ROUTE 666 BETWEEN SHEFFIELD & MARIENVILLE—
[Directions and Map]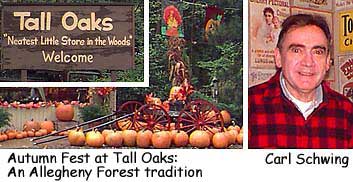 "We'd like to take you to a forest festival," said Bob Miller. We were Bob and Marjorie's guests at their camp on the edge of the Allegheny Forest in western Pennsylvania. Even in the rain, the drive to Tall Oaks was beautiful, especially since the forest was already beginning its autumnal show of color.
It was still drizzling when we arrived at the "neatest little store in the woods," but the rain hadn't stopped an enthusiastic crowd from turning out for the annual Autumn Fest. Bob and Marjorie showed us around the delightful collection of buildings and pavilions tucked among the trees. We watched a basket emerge from the skilled fingers of Ruth Emberg as we enjoyed a cup of hot cider. The music of Jeff & Marla Cox wafted through the trees as we visited other artisans and went inside the Halloween barn and the antique shop. From maple syrup to Indian corn, Tall Oaks had everything to put us in a harvest moon mood.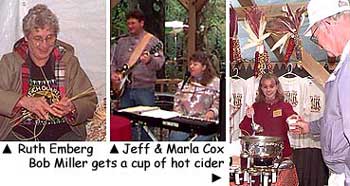 At last we came across Carl Schwing, who, along with his son Tom Beletic, founded Tall Oaks sixteen years ago. "We moved here from Cleveland. We found this place and fell in love with it," said Carl. "It was Tom's idea to open a store. I thought he was crazy to think he could run a store this far out in the woods. I used to sit here for hours without seeing a single car go by."
Carl and Tom proved that if a store has something people want, they'll go out of their way to find it, and they'll bring their friends. As we drove back to Marienville with Marjorie and Bob, we thanked them for sharing Tall Oaks with us.
Tall Oaks Stores, Inc.
154 Star Route
Sheffield, PA 16347
(814) 968-5558

(Route 666 between Sheffield & Marienville, Pennsylvania)