Calgary Stampede 1996
CALGARY, ALBERTA—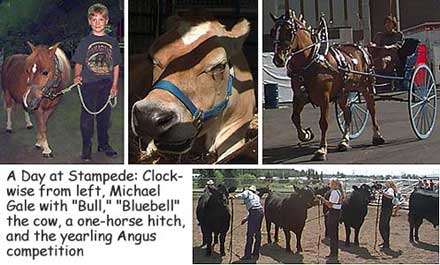 It was a hot day in Calgary, but nothing could wilt the enthusiasm of the 100,000 or so people who turned out to enjoy another day of Stampede. We spent the day wandering through the barns and watching competitions.
In the Big Top tent, the 16th Annual World Championship Blacksmiths' Competition was underway. Anvils were ringing as blacksmiths from across the continent crafted horshoes from barstock. CN$20,000 in prize money is at stake, and the event lasts four days.
Nearby in the horse barn, we met Michael Gale, 9, who was preparing to show "Bull" in the miniature horse competition. Miniature horses can't be any taller than 34 inches, and they compete in a variety of events including barrel racing and a costume contest.
The International Stock Show was underway in the Outdoor Show Ring, where we watched the yearling Angus competition. Shows run continuously throughout Stampede, and thousands of animals arrive and depart daily.
Every where you turn at Stampede, people and animals are putting their best feet forward. We only found one who didn't have competition on her mind. "Bluebell," a ten-year-old Jersey milk cow, is retired, and judging from the contented look on her face as she reclined in her comfortable stall in the milk exhibit, she's not sorry her working days are behind her.